Middle East
Dems cave on Iraq withdrawal . . .
Iran 'accused of attacks in Iraq to bolster US strategy'
The World Says NO to Israeli Occupation
March on Washington, DC
Sunday, June 10th
Lobby Day Monday, June 11th
Read more...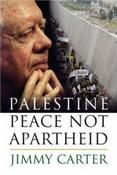 Reiterating the keys to peace
By Jimmy Carter  |  December 20, 2006
Boston Globe
(reposted here for those who don't have a Boston Globe login; see link below.)

MY BOOK "Palestine Peace Not Apartheid" was published last month, expressing my assessment of circumstances in the occupied territories and prescribing a course of action that offers a path to permanent peace for Israel and its neighbors. My knowledge of the subject is based on visits to the area during the past 33 years, my detailed study and personal involvement in peace talks as president, and my leadership role in monitoring the Palestinian elections of 1996, 2005, and 2006.

Read more...


Israel's Policy of Slaughter    

by Patrick Seale
The Deccan Chronicle, 1 November 2006 
    

Israel has killed 2,300 Gazans over the past six years, including 300 in the four months since an Israeli soldier, Corporal Gilad Shalit, was captured in a cross-border raid by Palestinian fighters on June 25.

Read more...

Report Seven:
"We need you to go home and alleviate our suffering"
Read more...
Iran: Remember the working class, the women, the youth - Don't Desert Them

Peter Manson and Dave Isaacson report on the July 22 demonstrations against Israel's onslaught on Lebanon: Wrong Slogans

(links will open in a new window. Articles courtesy of Weekly Worker.)

Please read the above articles, the "News and Opinion" Information Clearinghouse articles on the homepage, and as much as you can find on the deadly "conflicts" in the Middle East, and if you want to help this group analyze the current situation and the response we should advocate and work toward, please contact This e-mail address is being protected from spam bots, you need JavaScript enabled to view it or This e-mail address is being protected from spam bots, you need JavaScript enabled to view it or call 843-312-9741.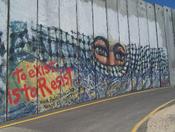 Report 4: Finding the Courage to Refuse-and Resist
Thursday, July 20
Read more...
Report Three: "Pain is not exclusive, and I don't believe forgiveness is either"
Read more...
Report 2: Multiple and Shifting Realities in the West Bank
Read more...
<< Start
< Prev
1
2
Next >
End >>
Results 1 - 16 of 20