Iraq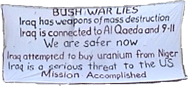 A leaked British memo, and other documents, make it clear that Bush intended all along to invade Iraq -- and lied about it to the American people. The full gravity of his offense has not yet sunk in.

Read more...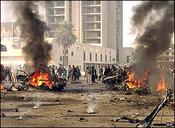 Saturday, February 12, 2005

 
And Life Goes On...
The elections have come and gone. The day of elections was a day of eerie silence punctuated by a few strong explosions and the hum of helicopters above. We remained at home and watched the situation on tv. E. left for about an hour to see what was happening at the local polling area, ... Riverbendblog

Read more...
By Ghali Hassan

02/04/05 "Information Clearing House" -- It is true that millions of Iraqis have participated in the "elections", but by international standard, the turnout was very low. On the day of the elections Iraq was in a state of siege, cut off from all directions. Journalists were also limited to areas of higher turnout, and the international monitors stayed in Jordan, 1200 km from Iraq. The elections were designed to provide legitimacy to US Occupation.
Read more...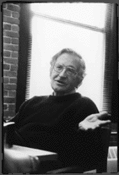 Noam Chomsky interviewed by M. Junaid AlamLeft Hook, December 17, 2004

... But what was dramatic about Fallujah was that it was not kept secret. So you could see on the front page of the New York Times, a big picture of the first major...step in the offensive, namely the capture of the Fallujah general hospital. And there's a picture of people lying on the ground, soldier guarding them, and then there's a story that tells that patients and doctors were taken from - patients were taken from their beds, patients and doctors were forced to lie on the floor and manacled, under guard, and the picture described it.
http://chomsky.info/interviews/20041217.htm

Read more...
Two years after the invasion of Iraq, the country continues to bleed and suffer.  The death toll on all sides is mounting, and the cost of the war is soaring.  The U.S. military, rather than solving Iraq's problems, is, in fact, the source of much of Iraq's instability.  It's time to say NO to war, torture, and occupation, and YES to international law, human rights, and respect for the planet and its inhabitants.
Read more...
"Behind these bars I sit a free man because I listened to a higher power, the voice of my conscience"
                      -Camilo Mejia, GI Resister, Conscientious Objector & Iraq War Veteran
Visit Free Camilo.org and Iraq Veterans Against the War for more information on military resisters.